WorldMarket Center Las Vegas is a five-million-square-foot showcase for the home and hospitality contract furnishings industry in the heart of downtown. Winter Market is a five-day show from January 27th through the 31st where more than 500 exhibitors show off their product lines. WMC Winter Market consumes 13 floors and A, B, and C buildings, along with temporary exhibitors in the Pavilions, making it the single largest display of furniture, home décor and giftware in the West Coast. It's not open to the public, this show is for the trade only. Attendees include designers (and their guest clients), hotels, purchasing, and retail companies.
Furniture companies come to Winter Market to not only showcase their products, they also educate buyers on the difference between building bulk furniture and handcrafted items. Seminars are scheduled in the meeting rooms almost every hour on the hour for the event.
Somers Furniture will be at booth C591, that is in building C and booth 591 on the fifth floor. We have joined forces with Moda Dora to show you more than 10 different manufacturers. The theme of the show is "Winter Wonderland," which you might say is a stretch considering some vendors are selling outdoor furniture, but you would be amazed at what we have in store for you…
Most of us have priorities when going to a show of this size and Somers is no exception. It must show us something, teach us something, or we need to really enjoy the company. We have scheduled two of Las Vegas' finest designers to speak on Monday January 28th from 2 – 4 p.m.: Shelley Gorman, Owner of SKG Designs and River North, and Kimberly JOI McDonald, President of IDS Las Vegas Chapter. What makes them so unique? Come join us and find out!
Here's what else we have in store for you: 
Dining that does not look like dining, chairs are so yesterday. Combining benches, high back chairs, and swivel chairs is a great way to go, along with a dining table that looks indoors but can be hosed off!
Rockers that are comfortable enough for the Property Brothers, only this time we are using silicone for the fabric and it stays cool to the touch even outdoors in Vegas! Got to see to believe, right?
Create the ultimate open-air chatroom on our social circle Circular Sofa, not to mention the wedge side tables with built-in charging stations and a shelf to protect your tech from the ravages of the sun!
Everyone makes swivel chairs, but do you really want to see the base? We hid it in the chair so all you see is a sleek comfortable outdoor chair that offers 360-degree views!
You can't have outdoor furniture without loungers, so we are going to show you ribbed loungers with fully-lined built-in storage so they will be bug-free for towels, covers, etc. They also have a charging side table with tech-hiding shelf. Sold in a set or separate. Yin yang them so you can relax and talk to your someone special.
Always listening to our customers, we have built a sofa with soft pillow arms for those lazy Sunday afternoons. Combine it with special Thermory Pine wood that needs no maintenance, even in the desert heat and sun, complete with pine knots and shading that goes from a light brown to a weathered gray in time. Let's say it ages well!
Come by booth C591 at World Market Center January 27th – 31st and see for yourself.
We encourage designers to bring their customers so they can sit and take in the environment. You will think you are looking at interior furniture, but it's resort style for the backyard courtesy of Somers Furniture.
BONUS: Tips for getting the most out of the show…
Wear comfortable shoes
Go online in advance to see what companies are going to display
Write down the seminars that look interesting
Schedule your time between your favorite companies and seminars
Keep in mind you are in Vegas – the entertainment capital of the world – and take time to enjoy the hospitality that made us famous
Bring a rolling cart, briefcase, or suitcase for the brochures, fabrics, and literature you collect
Stop and eat, either at a showroom or the food courts on every floor in every building
Cocktails are served all day at some booths and happy hour runs from 4 – 6 p.m. at most booths
Don't miss this chance to network with over 50,000 hospitality industry professionals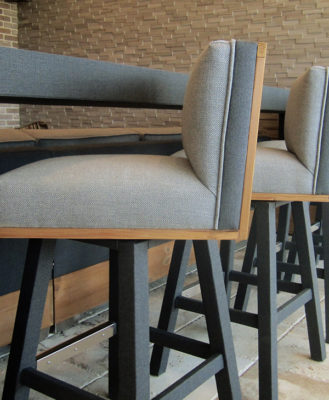 Let's discuss all of the important details.