The finest weather-resistant materials have been used to make our cushions; however, they are not impervious to weather extremes or lack of maintenance. To keep your furniture in fabulous condition here are some care instructions…
Cushions should never sit in water or be exposed to water for any prolonged period. To prevent mildew growth and corrosion, bring your cushions indoors if you know harsh weather is approaching. If cushions do become drenched with water, squeeze excess water out of the cushions, set them on their side to air dry in a well-ventilated dry area.
Vacuum to remove loose dirt. Prepare a cleaning solution of: 2 ounces (1/4 cup) dishwashing liquid per gallon (8 cups) of lukewarm water (less than 100°F/38°C). Use a sponge to clean. Allow cleaning solution to soak into fabric. Rinse thoroughly with clean water. Allow fabric to air dry.
The Sunbrella fabrics we use are treated with a fluorocarbon finish, which enhances water repellency. This finish is designed to last for several years, but must be replenished after a thorough cleaning. Based on test results Sunbrella recommends 303 High Tech Fabric Guard™ as the preferred re-treatment product for Sunbrella fabrics.
Fabrics should be re-treated after thorough cleaning or after five years of use.
For your easy reference, download & print this document: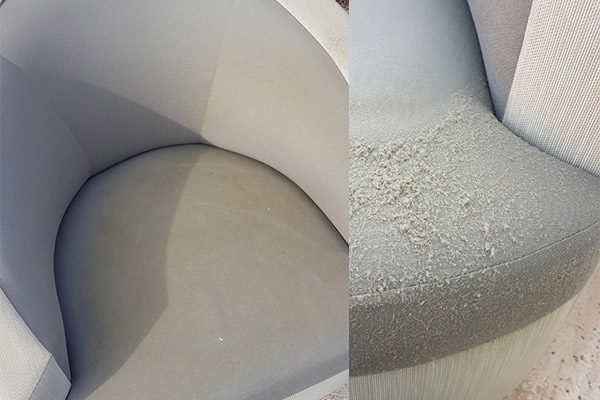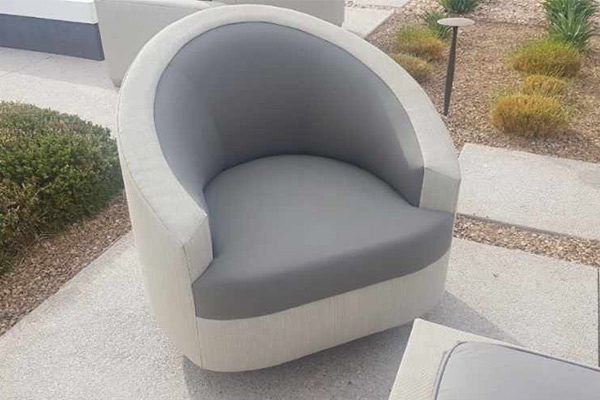 Clean, Sanitize, Protective Coating - Done!