When your company is coming to Las Vegas to sponsor an event – a convention, sports viewing party, music festival, or conference – and it's up to you to make the arrangements, Debbi Somers' best advice is: "take your time and make sure the companies you select are going to do what you want done when you want it done."  Too often in Las Vegas we see customers pulling out their hair because suppliers have not delivered the products they paid for, products were substituted without their knowledge, products were in unacceptable condition, or products never showed up and salespeople were not answering their phones or email.
A good first step is to hire only reputable, experienced companies. Start by checking their references and make them show you pictures of similar parties, events, or conferences they have done. If you think hiring a professional is expensive, just wait until you hire an amateur! Not to mention protecting the priceless integrity of your brand.
CES (the Consumer Electronics Show) is the world's premiere gathering place for the many thousands of professionals of all kinds who thrive on the business of consumer technologies – you might call it the Super Bowl of Tech! When #CES2019 started setting up, #SomersFurniture with Debbi Dalton Somers spent the weekend moving in at Encore Las Vegas Hotel & Casino and The Las Vegas Country Club. Both are off sites away from the usual convention centers and are not for the inexperienced crew! It seemed strange to walk into empty guest rooms and fill them with our office furniture. A major challenge was matching their luxury brands, and we only had two hours to do it. What a way to start 2019!
CES2019 in Las Vegas brought in more than 182,000 industry professionals and required more than 2.7 million net square feet, so much space that the convention centers could not accommodate the meeting room space. So hotels emptied their guest rooms of furniture and hired furniture rental companies to move in furniture without damaging their facilities or bothering their other guests. Time and accuracy became crucial, so loading docks had to booked out for the timeframe, and crews needed to be experienced because vendors were loading and unloading in tight succession. Afterward, too many hotel logistics managers shared stories of crews being short staffed or inexperienced and move-ins were taking 24 hours to complete instead of the dock times that were reserved.
Somers was proud to be hired to move into the Las Vegas Country Club and hospitality suites (guest rooms) at Wynn, Encore, and Vdara. As we were taking our furniture to the rooms, security personnel commented that they had never seen a crew as organized as ours, everyone knew what to do and got it done in the allotted timeframe.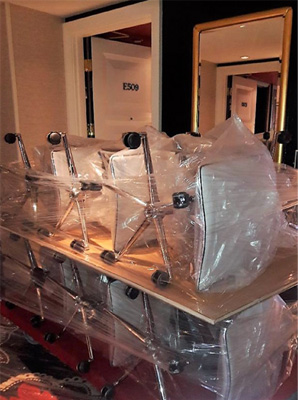 We even custom-built carts to handle the furniture without scratching the hallway walls or the furniture!
Finishing ahead of schedule is how we keep our clients happy. For example, if we know we can do it in four hours, we strive to get it done in less time. If an order calls for 120 chairs, we bring extras just in case something goes wrong because there's no time to go back to the warehouse. And all furniture is inspected before it goes out to make sure it is in mint condition.
We put the same level of care into Super Bowl parties, which Somers has been doing for over 20 years!
Our first one was at the Golden Nugget in Las Vegas, where the owner wanted the largest living room anyone had ever seen inside a meeting room. "Blow the customer away, they are in Vegas," they demanded! Since then we've done multiple sports viewing parties all over Las Vegas from private VIP to huge events. Last year Somers furnished Bellagio, MGM Grand Garden Arena, Venetian, and Tropicana with comfortable custom-built furniture to seat the sports fans that traveled to Las Vegas. We captured the setup on this video. Note no supervision from the hotel was needed.
Subscribe to Somers Furniture's YouTube Channel