Everybody loves a good selfie – but a great selfie needs the perfect backdrop. That's why Happy Place is on a mission to spread happiness across the world. The hit-massive pop-up exhibit that attracted more than 750,000 visitors during its sold out stops in LA, Chicago, Toronto, and Boston, and is now in residency at Mandalay Bay in Las Vegas.
One of the most popular themed rooms at the Mandalay Bay Happy Place had a sofa shaped like a pair of lips, but it wasn't up to their standards. Their producer called Debbi Somers of Somers Furniture requesting to build a more luscious lipstick red Lip Sofa which they needed pronto. So Debbi's team dove in taking pictures and measurements, and offering suggestions to improve the build.
The first Lip Loveseat was built and shipped to Happy Place's Philadelphia headquarters in an amazing three days. Two more were delivered to Mandalay Bay next to a six-foot-tall X and O made of mirror and a surrounding wall of a thousand red lips. Now Happy Place customers are puckering up for selfies in a unique environment that screams "Love"!
Lead by Example – Not Just Lip Service
Somers Furniture has been building furniture for over 15 years and since it was a piece of
furniture, it was no surprise that it looks like we have been building them for years! We now have these fabulous lip sofas in our rental inventory for comfy and stylish seating or a selfie booth at your next event, and of course, we can custom make something just for you. When you're looking for that perfect piece of luxury furniture for your business or event, contact us!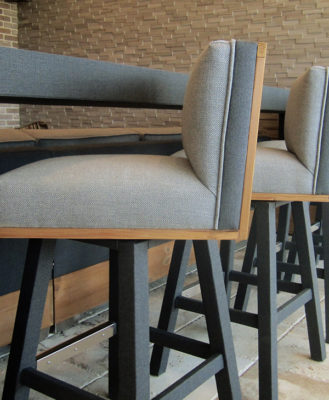 Let's discuss all of the important details.