Since cannabis is now legal in Nevada, some savvy Las Vegas entrepreneurs decided to open the city's first cannabis tasting room in October of 2019. Customers come to NuWu Cannabis Marketplace can sample various strains of weed before making a purchase, which quickly became a business magnet.
This unique new business deserved equally unique furniture, so Somers Furniture rental division answered the call with fresh new designs so NuWu could "try before they buy" just like their customers.
The challenge here was to provide the right mix of seating for a pioneering business with no prototype to reference. Somers' design team leveraged their experience creating the first furniture for pool lounges in Las Vegas at the Venus Day Club at Caesars several years ago. We gave Caesars a choice of daybeds, sectional seating, sofas and chairs, and loungers. And we gave them the option to rent first so they could determine what their customers preferred.
The Results Are Dope!
Debbi and the creative crew at Somers Furniture offered NuWu a choice of four different seating areas, including a banquette grouping, high-top tables and barstools, club chairs surrounding cocktail tables, and sofas and loveseats. The result was a smokin' success!
A Blast From the Past…
The Nuwu furniture rental program was inspired by the rental program Somers put together for one of Las Vegas' first ultra day pools: Venus Day Club at Caesars.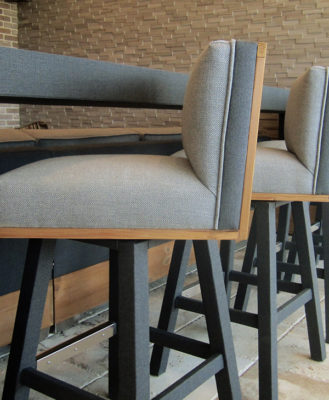 Let's discuss all of the important details.