When To Reupholster Furniture And When Not To
Not all furniture should be kept and repaired! But how do you decide if updating furniture is worth it? Recently purchased, inexpensive furniture that isn't quite as comfy as you'd like or doesn't fit in with your decor – just give it to your kids for their first place! If purchased well made, expensive furniture and you love the feel and fit of it, but polka dots don't fit your "new look" we can update the look to fit your decor, so why not reupholster, recover, repaint & repair it! Furniture is like clothes, the more you pay and the better it fits, the longer you keep it!
Another way to figure out if your bigger furniture is worth recovering: if you can pick up one side by yourself and move it into another room – let it go! If you need 6 of your son's friends to move it to the next room, recovering it would make sense because it's probably is a wood frame that we could replace the support webbing, add or replace the foam (cushion) and dacron (stuffing that makes a cushion look plush) and even change the style of the arms or back – it will look completely different and still be your familiar comfy furniture that will last another decade!
Furniture built overseas is made to be shipped so they use Styrofoam, cardboard and other light weight material that doesn't do well when we uncover it. We're asked to repair Las Vegas hotel furniture from time to time, but find it falls apart when we strip it down because of the lightweight frame. Unless you want to rebuild lightweight furniture (and we can do that), let it go!
You get what you pay for!
Check out some of our before and after examples and do the weight test above for biggie pieces. If you need more advice whether upholstery, recovering or replacing are good options, contact us and we will help you make that decision – because you don't have to get rid of mom's flowery pink couch – just update it!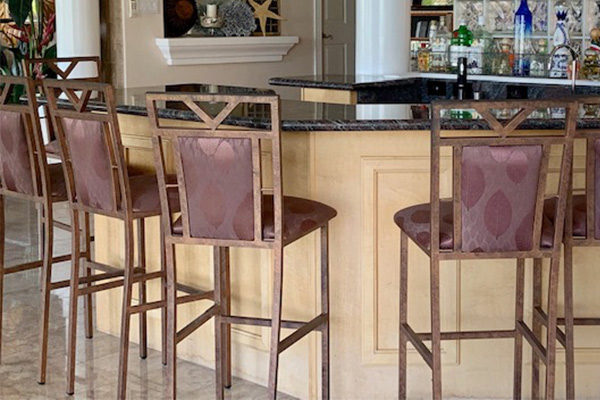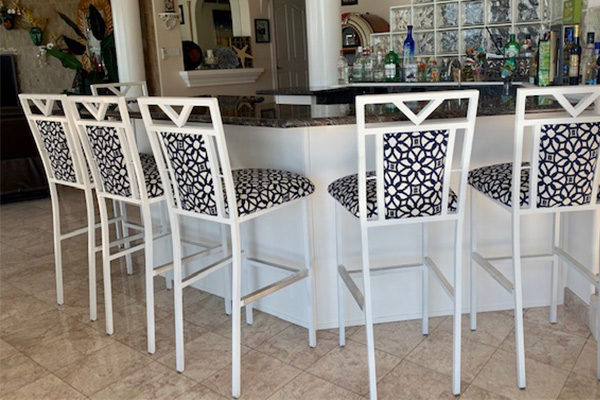 Barstools taken from Tuscon to Beachy: 
Somers Furniture stripped these barstools, s
anded and painted white, added s
tainless steel foot rests, added n
ew outdoor fabric (cut, sewn and upholstered), added n
ew glides installed on bottom and look at that! It makes the whole room look different!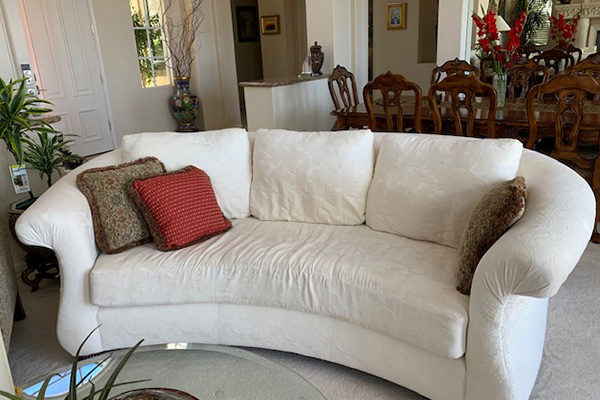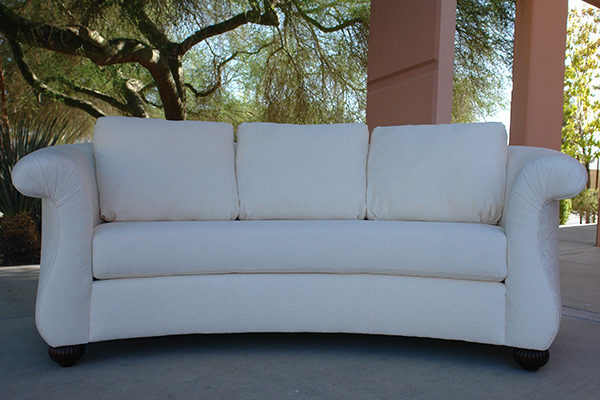 Spanish Hills "Perfect Shape For Living Room" Before and After Sofa
Somers was tasked with reupholstering this favorite comfy sofa to make it look as new as possible. We were up to the task! We stripped off the old worn fabric and support webbing and replaced it all. New fabric cut, sewn and upholstered using dacron. Pillow fabric was cut, sewn and stuffed replacing dacron. We cleaned up the feet and, it looks new!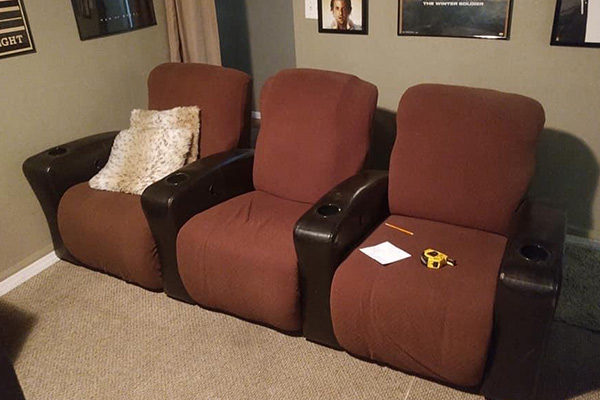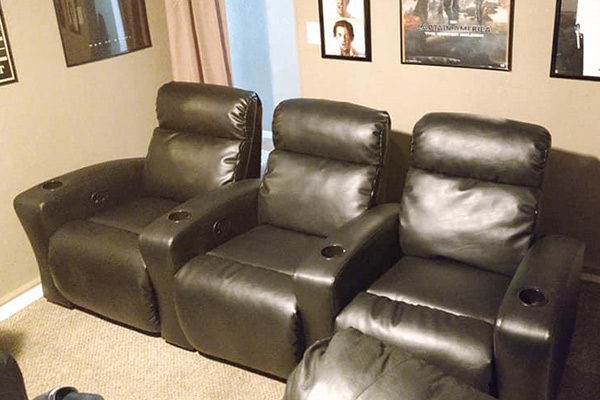 Home theatre seating reupholstery:
Somers Furniture stripped off the old dated fabric, replaced support webbing, cut, sewed and upholstered new vegan leather, then added dacron and cleaned-up and  reattached the feet and glides – sounds simple right? This "new" couch is premiering at a living room near you!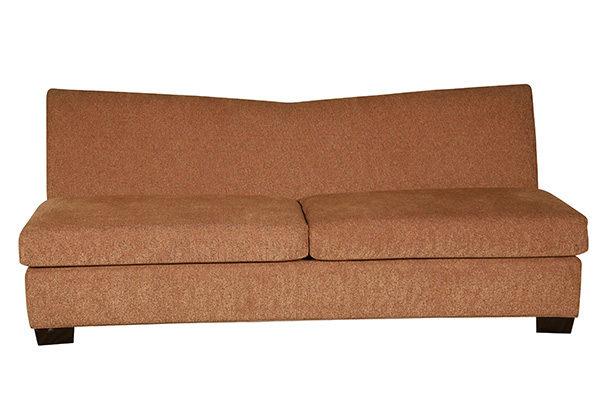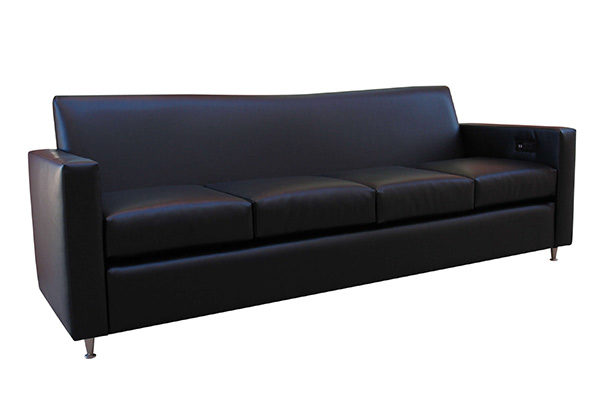 Interior Caramel Sofa converted to Exterior Black Tech Charging Sofa: 
Somers super team of professionals stripped off fabric from this quality indoor couch, altered the frame by adding arms with charging stations, then weather sealed it all for outdoor use. We used marine grade vegan leather base fabric to cut, sewn and upholster the whole couch and cushions. The seat cushions changed from 2 to 4 for separate seating, and added strapping to attach seat cushions to the frame for no separation during move in and move out. And we finished it off with new stainless steel legs – it's all about the details!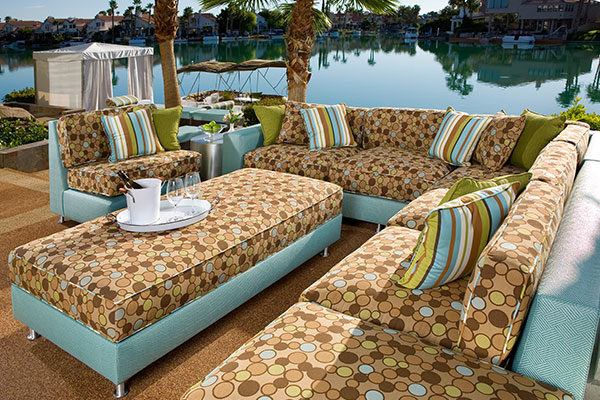 Luxury polka-dot outdoor sectional updated with on-trend designer fabrics: 
This Somers original sectional sofa, loveseat, ottoman, cushions and pillows was stripped of fabric then new outdoor fabric was cut, sewn and upholstered on all the sturdy bases of sofa, loveseat, ottoman. New cushion fabric cut, sewn, upholstered and stuffed. Straps were added to cushions and frame for windproofing and extra dacron added to crown cushions to give overstuffed look and feel. Pillow fabric cut, sewn, stuffed with weights added for windproofing then we cleaned and reattached stainless steel legs. Looks like new and just in time for another hot Las Vegas summer!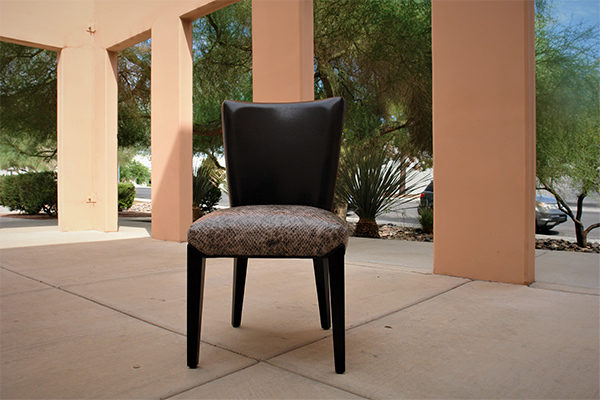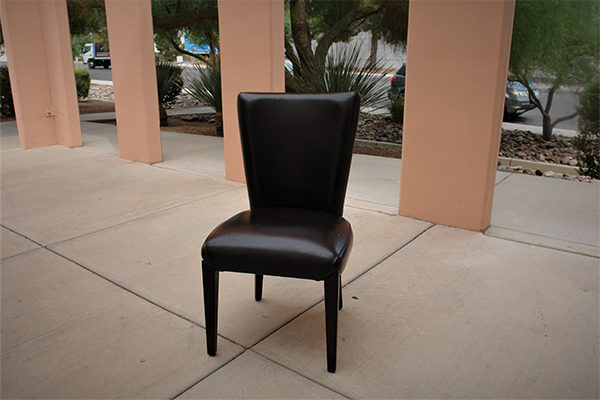 Brown leather chairs dare to be two-toned: 
Somers started with stripping the chair seat, and the leather welts were saved to be reused. We discovered the leather on the back of the seat was decomposing, so we couldn't strip it and realized the back of the seat needed to be cut, sewn and upholstered over leather. Vegan textured leather was cut, sewn and upholstered and one leg repaired. The original leather welts were attached to the chair seat and wood was touched up.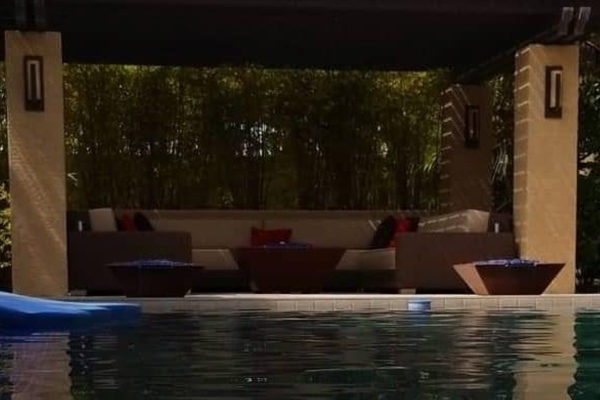 Luxury outdoor furniture for cabana 7-year refresh & update: 
Somers Furniture client, Hales, liked it so much in 2013, he did it again in 2020! We originally built a wall-to-wall cabana seating with seating on the back of the sectional. When he came back in 2020 and wanted anly wanted to change a few things!