How do you furnish 11 concurrent socially-distanced events during a Pandemic? Call Somers Furniture, that's how!
The rental furniture business in Las Vegas has been nonexistent since March 2020. Somers Furniture eked out a few small staging orders, but events and conventions were a no-go for nearly a year… until The Big Game 2021!
The challenge was the spacing. We went from the standard "getting the most living room feel seating in the largest ballroom kinds of areas" to "how do we seat an event with social distancing with a maximum of 50 occupants"? Up for the challenge, the entire Somers Team worked with event departments from the MGM Grand, Bellagio, New York New York, and Park MGM to keep all event attendees a safe distance from other Big Game fans.
Tape measures were more valuable than the logistics… who knew?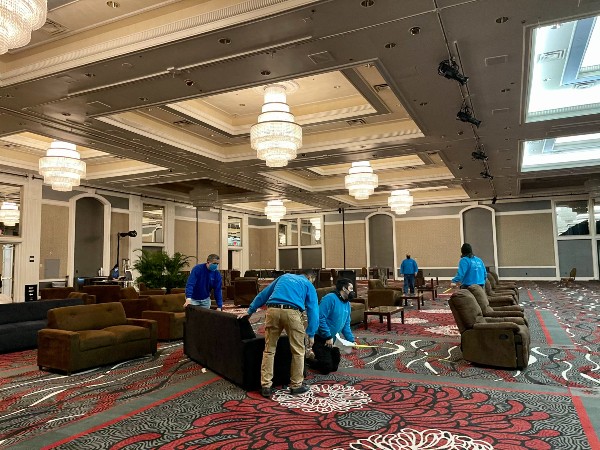 The once followed-to-a-T floorplan of events past was scrapped for the exact measuring of six feet distance…in every direction! Never having done anything like this we took three days to move in all eleven locations, anywhere from an empty restaurant, night club, meeting room to the mansion! The next three days to move the furniture out, completely unlike our usual same day in and same day out routine we only knew of in previous years! Our goal as a company is to have the furniture look brand new.
All events went off without a hitch, proving again Las Vegas knows how to party AND keep their guests safe! Anybody can talk the talk but let us show you how to walk the walk, COVID style!